Two Wits students bag Optics and Photonics Education Scholarship by SPIE
- Wits University
Leerin Michaela Perumal and Cade Ribeiro Peters, receive a life-changing opportunity for their potential contributions to physics.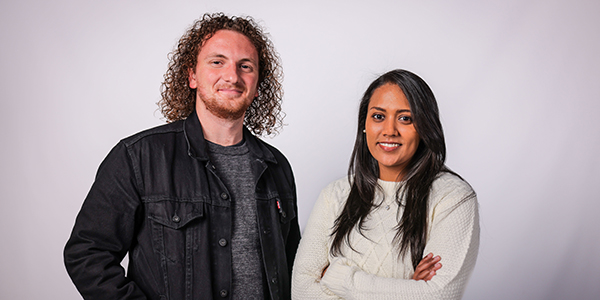 Both Perumal and Peters are currently pursuing a master's degree in physics.
Their academic journeys have been nothing short of inspirational. To achieve their goals, it took a lot of sacrifice and hard work.
It was in Grade 9 when Peters knew that he wanted to pursue Physics. On the other hand, Perumal always dreamed of being a doctor, but she said that the Physics route was paying off.
SPIE Optics and Photonics Education Scholarships are open to students located anywhere in the world, in high school, community, and technical, undergraduate, and graduate programs, who are studying in a field related to optics and photonics.
This year (2023), the Society is awarding $293,000 in education scholarships to 72 outstanding SPIE Student Members, based on their potential contribution to optics and photonics, or a related discipline.
Peters, who is SPIE Student member, said that receiving a SPIE scholarship was a life-changing experience.
"This is a life-changing experience. I feel really lucky because I know a lot of people don't get it and I hope I'm going to use it and do as best as I can. I feel privileged and grateful, and hopefully, I'll take the opportunity and use it as wisely as possible," said Peters.
Peters said the scholarship came at the right time and it would assist him to get new textbooks.
"It's nice to finally be able to afford to buy textbooks, equipment and different software."
After completing Master's, Peters intends to pursue PhD degree and ultimately become a lecturer.
"I definitely want to carry on with my PhD here at Wits because I spent a long time thinking about what's the best next step and looking around and I really like this field. Ultimately, I really love teaching physics. So, I hope I do get to become a Professor one day and get to teach undergrads Physics students because I think it's a really important field."
On the other hand, Perumal who is also SPIE Student member, said that when she got selected for the scholarship, she couldn't believe it.
"I was really stunned by it and I feel very privileged. But more than that, especially coming from a background where I didn't even want to do Physics to realise that someone recognised me. And recognise my potential. It gives me that inspiration, like wow, I can do this. And again, I also wish, and I pray that I use it properly, and set the foundation for future people that want to get the scholarship," said Perumal.
"What I like about the scholarship is that I want to attend academic conferences. The SPIE is able to award funding for the specific conference," said Perumal.
Perumal expressed that after completing Masters she would still want to continue with research and make a difference in people's lives with her research
"I really love my research and it's something that no matter what field I go into, I would want to continue with. And if that means working in a company or continuing in the lab, that is great. So, I don't know what job title it would fit, but I definitely want to be in a place where I can make a huge difference, impactful difference for everyday lives in people with my research like solve actual problems," said Perumal.
"I just want other students to realise that you may come from a small school or a small environment but you can be on an international level and you can do really big things," advised Perumal.
Both Perumal and Peters have expressed gratitude to Professor Andrew Forbes and the rest of the Physics Master's team.