Wits GCI co-leads pioneering initiative to fight the impact of tropical cyclones
- Wits University
The new R110 million project aims to improve early warnings and enhance resilience to changing tropical cyclones in southern Africa and Madagascar.
The Wits Global Change Institute (GCI) co-leads a new international R110 million project aimed at limiting the devastating impact of tropical cyclones in southern Africa and Madagascar.
The project, called Resilience and Preparedness to Tropical Cyclones across Southern Africa (REPRESA), will focus on addressing the impacts of tropical cyclones in Madagascar, Malawi and Mozambique in a changing climate, but the work will also have wider implications.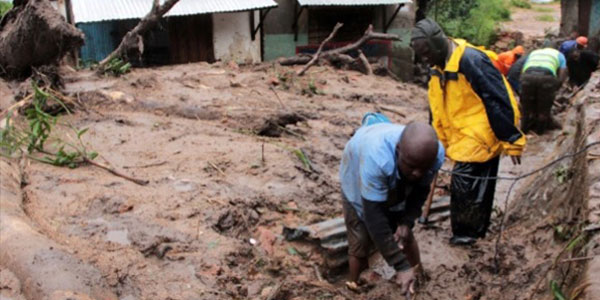 As part of the Climate Adaptation and Resilience (CLARE) research initiative, experts at the Global Change Institute of the University of the Witwatersrand in South Africa will co-lead REPRESA with the University of Bristol in the UK, and Eduardo Mondlane University in Mozambique.
The first-of-its-kind project comprises an interdisciplinary team of leading social and physical scientists, national and international hydrological and meteorological services, and practitioners to tackle the pressing challenges posed by tropical cyclones in the region.
The team recognises the importance of significantly improving the uptake of forecast products in vulnerable communities. As result, the research process will co-develop and enhance anticipatory governance structures for flood and tropical cyclone risk management in local communities. This includes early warning dissemination and scenario-based community-specific action plans.
"Recent years have seen unprecedented impacts from landfalling tropical cyclones in southern Africa. More than 1,300 people have died in the path of tropical cyclone Idai in March 2019 – the worst flood disaster in the history of Africa south of the equator," says Francois Engelbrecht, Professor of Climatology at the University of Witwatersrand, and Director of the GCI.
"We need to better understand how climate change has been changing, and will increasingly change, tropical cyclone impacts in southern Africa and Madagascar. As an immediate response, we need improved Early Warning Systems, and improved uptake of these warnings, in this part of the world. At the same time, southern African countries and Madagascar need to develop more robust climate change adaptation strategies to prepare for increasing impacts from tropical cyclones over the next few decades."
Lizzie Kendon, Professor of Climate Science at the University of Bristol Cabot Institute for the Environment, says that while southern Africa is hugely vulnerable to the devasting impacts of tropical cyclones, as demonstrated recently by Cyclone Freddy, where hundreds of people lost their lives, we know very little about how tropical cyclones are changing in the region under a warming climate.
"In REPRESA we will bring together state-of-the-art climate and flood modelling to make a real difference to people's lives in some of the most vulnerable communities, including women and children displaced by conflict.
"This is a true north-south partnership, that I am honoured to co-lead. Collectively we will improve early warning systems and their uptake and increase resilience to tropical cyclones in the longer term."
The project is part of the first group of projects under CLARE, a UK-Canada framework research programme on Climate Adaptation and Resilience, aiming to enable socially inclusive and sustainable action to build resilience to climate change and natural hazards. Primarily funded by UK aid from the UK government along with the International Development Research Centre, Canada. REPRESA will run from June 2023 until the end of 2026.
Southern Africa is highly vulnerable to the destructive forces of tropical cyclones, as evidenced by the catastrophic Tropical Cyclones Idai in 2019 and Freddy in 2023. The existing early warning systems in the region, and/or the uptake of the warnings issued, are inadequate to prevent loss of life and economic hardship. REPRESA aims to fill this gap by improving early warning systems as well as conducting comprehensive research on how cyclone risks will evolve in a changing climate, and formulating adaptation options that enhance resilience in the face of these risks.
REPRESA will also foster equitable partnerships and collaboration with various stakeholders, including universities, hydrometeorological services, Red Cross organisations, development institutes and relevant practitioner and national and local government bodies. The project will harness the expertise of researchers, practitioners and in-country partners and ensure their knowledge is integrated effectively.
The outcomes of the REPRESA project will have far-reaching impacts, both within the focus countries and in developing research findings on building resilience and developing adaptation options to complex climate risks in vulnerable communities more widely. This will include improved uptake of early warning systems in vulnerable communities, strengthened humanitarian operations through anticipatory action, and enhanced climate adaptation planning at multiple levels.
Download the original REPRESA media release here.